The Westfalia Terrier The Original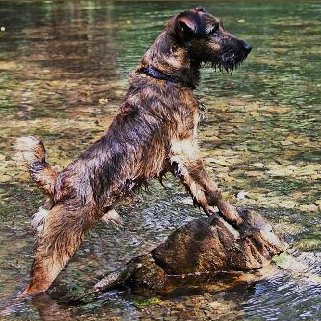 Origin and geographic distribution
The Westfalia Terrier is a German dog race. Breeding began in Dorsten / Germany back in 1970.

The Westfalia Terrier belongs to the more recent breeds of terriers: by cross-breeding Lakeland- and Fox Terriers, the Westfalia Terrier was outbred from the German Hunting
Manfred Rüter is the initiatior of this new breed who also monitors the Westfalia Terrier. A resident of the town of Dorsten / Westfalia, he still exerts his influence on breeding activities today in his function as Federal Supervisor of this breed. Early breeding activities were carried out applying the designation \'\'Westdeutscher Jagdterrier\'\' (West German Hunting Terrier). This was changed in 1988 to \'\'Westfalenterrier\'\' (Westfalia Terrier), as a mark of distinction from other breeds of terrier, and as a reference to its geographic origin.

The breeding goal was reached after a relatively short period: The creation by means of pure breeding of a small sized terrier which is intelligent, obedient and versatile, with a disposition to hunting, and which attracts attention by its noble outward appearance.

Regrettably, there are two further organizations breeding Westfalia Terriers. Their breeding activities are not in line with the principles set out by this breed\'s creator, Manfred Rueter, who oversees pure breeding in our association and monitors the consolidation of the breed\'s population.

As late as the mid-seventies, when news of the new breed began to circulate, only few hunters had learned of the existence of the Westfalia Terrier. Today though, the Westfalia Terrier is enjoying ever increasing popularity amongst hunters in every part of Germany as well as in foreign countries inside and outside of Europe. In future it will be hard to ignore this breed.
Character
The Westfalen Terrier is a hound that can be used by any hunter, because it is very obedient and loyal to its leader. Its above average intelligence enables it to anticipate the wishes and commands of its leader very quickly.
Cookies:
This website uses cookies to make our offer more user-friendly, effective and secure. Further information can be found in our privacy policy.